Winner of Fiction at the Sainsbury's Children's Book Awards 2020.
Winner of the CRIMEFEST Children's Crime Fiction Award 2020.
Shortlisted for the Tower Hamlets Libraries Book Award 2020
Shortlisted for the North Somerset Teachers Book Awards 2020
Shortlisted for the British Book Awards 2021
Shortlisted for the Blue Peter Book Award 2021
Longlisted for the Leicester Libraries Best Book Award 2020
Press Reviews
"The chaotic warmth of an eccentric extended family underpins this exhilarating romp which touches upon children's insecurity about change. Anisha and Milo are an engaging team who we are sure to meet again."
Daily Mail
"The story surfs along on a wave of excitable prose, while offering insights into Hindu culture that, for the uninitiated, are intriguing."
Financial Times
Waterstones says: "The first of a hilarious new series by Serena Patel, Anisha, Accidental Detective is a feelgood joy."
Also featured in the Guardian's Best New Children's Books roundup for March and The Booksellers One to Watch.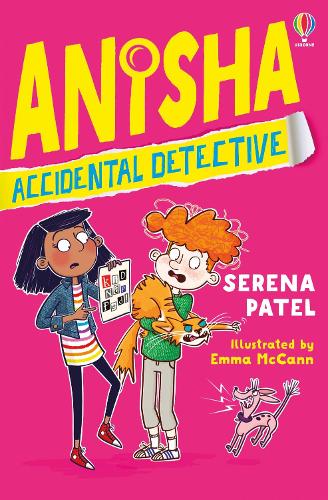 Anisha Mistry is all set to be a bridesmaid at her Aunty Bindi's wedding tomorrow…until she finds a note in her family's letterbox. Bindi's groom has been kidnapped and will only be released IF THE WEDDING IS CALLED OFF!
With best friend Milo, a mischievous granny, a runaway lobster, a giant chauffeur, and some super sleuthing skills, it's up to Anisha Mistry to find her uncle and save THE big Indian Wedding of the year.
Published by Usborne 5 March 2020
Read an extract

Order through Hive
Order from Amazon or from Waterstones
The series is also available from Usborne Books at Home
Illustrated by Emma McCann
You can follow Emma on Instagram to see more of her amazing work
---
Review taken from Amazon
---
Hi, I'm Anisha, I'm supposed to be a bridesmaid at my Aunty Bindi's wedding tomorrow, but I've just found a ransom note, pushed through the letterbox, saying Bindi's husband-to-be has been KIDNAPPED and will only be freed if the wedding is CANCELLED!

My super-dramatic Aunty Bindi is having a MEGA MELTDOWN. It's supposed to be the WEDDING OF THE YEAR but it's tomorrow and it's looking like a "first-class disaster!" And now the groom is MISSING. She absolutely cannot find out.

Milo is my best friend, and the only person I can trust to help me solve the case. We'll have to go through the suspects one by one. (That's Yasmine by the way, Milo says he can talk to animals, and she's not so happy about the situation either.) Let's investigate!